Projects
Cancer prevention
Molecular Tumorbiology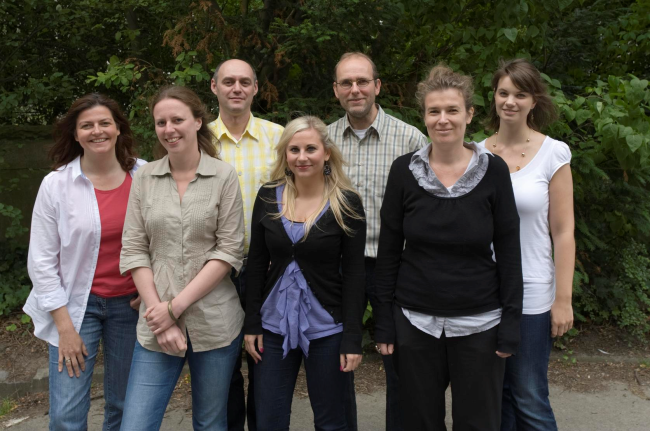 (left to right) Marita Kaßen, Dr. Christina U. Köhler, Dr. Oleksandr Bryk, Sandra Ziob, Dr. Heiko U. Käfferlein, PD Dr. Kerstin Lang, Jaqueline Friedrich
Cancer is the result of complex gene-environment interactions, making it highly specific in origin and the resulting molecular pattern for each individual. The high specificity of cancer's origin makes a "true cure" for cancer difficult. Nevertheless, every cancer is characterized by certain generic hallmarks, such as disturbances in proliferation, apoptosis, cellular energy metabolism and resistance to immunological defense mechanisms. Therefore, diagnostic strategies can be developed based upon these generic characteristics followed by therapeutic approaches "to reduce cancer to a chronic disease" by individually tailored drugs (personalized medicine).

The goal of our research within PURE is to identify generic characteristics of cancer. For this purpose, biological samples from cancer patients (e.g., blood, urine, tissue) are analyzed at both the genetic and protein level and the results are compared to healthy individuals by differential expression analysis. The basic knowledge gained is used in multiple areas. One of our primary objectives is to identify suitable cancer-specific biomarkers. The overall aim is to develop antibody assays for early detection of cancer based on non-invasive methods (e.g., using urine). These methods can be used as a "point of care" biomarker assay in daily medical practice. The latter will increase the acceptance of the test by the patients and by a given screening population. In addition, such tests allow for the validation of the biomarkers (sensitivity, specificity) in large molecular epidemiological studies, in cooperation with the scientific study centre of PURE. Biomarkers identified in the initial studies can also be used for the stratification of patient populations at the molecular level in order to directly compare molecular markers to those identified by the platform technologies in PURE (biospectroscopy, proteomics). Finally, our group also examines the role of the biomarkers in intracellular signaling pathways and inter-cell communication in order to contribute to the understanding of the tumorigenic process and to identify potential targets for drugs. Here, particular focus is on cellular networks involved in angiogenesis, metastases, metabolism, immune defense and tumor microenvironment.

In our laboratories, various methods are used for the quantitative determination of DNA methylation, mRNA, miRNA and protein expression. In addition, cytogenetic analyses are conducted. Both cell culture and patient samples are used for the identification of biomarkers. Ultimate goals are the development of high-throughput methods for the simultaneous detection of multiple cancer-specific biomarkers (biomarker panels) and deciphering the role of selected biomarkers in tumorigenesis. Currently, our major focus is on cancers of the urogenital tract such as bladder carcinomas.


Instruments / Techniques:

- Laser Microdissection (Leica LMD 7000)
- Flow Cytometry (Becton Dickinson FACS Canto II)
- PCR (e.g., Taqman® Low Density Arrays, Roche LightCycler 480)
- Hybridization Array (Illumina)
- Antibody Arrays and ELISAs
- Mass Spectrometry (Sequenom)
- Microtome (Zeiss Hyrax M25)
- Slide Scanner (Hamamatsu NanoZoomer 2.0 RS) including Image Analysis (Visiopharm)
- Western-Blotting / Immunoblotting including Image Documentation (Intas)
- Fluorescence-In-Situ-Hybridization
- Bright Field and Fluorescence Microscopy (Olympus, Nikon) with automated Image Analysis (Scan^R)
- Cell Culture for Human Permanent Cell Lines and Primary Cells


Contact: