Projects
Clinical Oncology
The clinical oncology within PURE has set itself the goal of identifying prognoses and the response to specific therapies of tumor patients, which can be immediately be validated in affiliated clinics. PURE relies on a variety of research facilities and biobank platforms, and uses scientific-experimental as well as translational approaches to achieve this goal. The main focus of the clinical oncology is placed on gastrointestinal and haematological tumors and on urological and gynaecological forms of cancer. A further emphasis is set on the identification of new substances through screening techniques.



Center for Oncological-Clinical Studies (ZOKS)
The ZOKS was founded under the umbrella of the RUB, in order to comply with data protection rules, as well as the recommendations for establishment and management of a biomaterial bank. The ZOKS consists of the two fields of "clinical studies", which works on methodical aspects of clinical therapy studies and looks after the patients involved in the studies at the clinics, and "Clinical biosample coordination for the central biomaterial bank (cBMB) of the Ruhr-University's Comprehensive Cancer Centers". (Direction: Institute für Pathology at the RUB).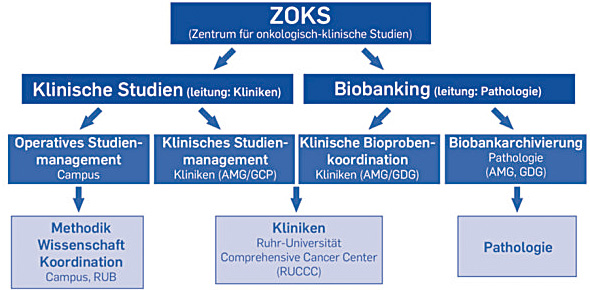 Contact: